Wholeness
Ed Anders Quartet with special guest Greg Abate
ED FILA: guitar
ANDERS SVANOE: alto saxophone, clarinet, percussion
HENRY BOEHM: double bass
GEOFF BRADY: drums, percussion
and featuring special guest,
GREG ABATE on saxophones

1999 Ny Musikk Records 0499-1003
Recorded, mixed and mastered January-April 1999 at the Madison Media Institute, Madison, Wis.
Engineered by Mike Baehler and Dave Jensen
Mastered at the Madison Media Institute
Produced by Anders Svanoe and Ed Fila






ABOUT GREG ABATE


"A confident player, Abate has a wonderful musical intensity which fits the post-Bop tradition!"
Ken Franckling, JAZZ TIMES

Greg Abate has performed and toured with the Ray Charles Orchestra and the Artie Shaw Orchestra. He has recorded with Red Rodney, Rufus Reid, Kenny Barron, Kenny Washington, Claudio Roditi, Richie Cole, Hilton Ruiz and James Williams on the Blue Chip, Brownstone, Candid and Seaside labels. In addition to his touring and playing, Greg teaches throughout the country, sponsored by the Selmer Music Company. Greg resides with his family in Cranston, Rhode Island.

"The EAQ plays real music with sincerity and energy. It was a pleasure to work with them"
Greg Abate 1999

GREG JOINS THE EAQ ON FIVE OF WHOLENESS'S NINE SONGS PLAYING ALTO, SOPRANO AND BARITONE SAXOPHONES.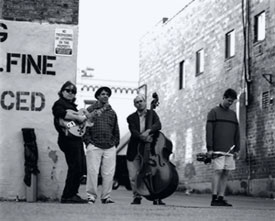 WHOLENESS REVIEWS
Cadence Magazine (July 2000/Vol 26, No 7)
There's an effervescent swing about WHOLENESS that recalls the Tristano sound of Konitz & Marsh, especially in the quintet sides featuring the twin reed front-line of Svanoe and Abate. Their approach explores an intelligent alternative to the hard bop mode so prevalent in today's contemporary commercial mainstream. Comparable intelligence animates bands like Tim Berne's Bloodcount (although at a much more hard-core intensity). While this may sound like a surprising claim, the connection becomes audible to my ears during the most radical performances like "Wholeness," the dramatic spanish vamp "Time Stops Here," the driving free bop "Ed's Head" and the dirge ballad "Jamie's Birthday" that opens with a brooding duo for arco bass and clarinet. The Ed Anders Quartet achieves fresh levels of intensity in performances that confirm how this band continues to grow as a creative unit. Wholeness is highly recommended.
David Lewis


Isthmus Newspaper (December 1999)
The Ed Anders Quartet took a quantum leap with their CD Wholeness, an interesting if somewhat scattered album that offers samplings of post-bop, Coltrane-style spiritualism and gauzy fusion. The CD also features some energetic improvisation by special guest Greg Abate. If it's contemporary cool you're looking for, you can't do much better than saxman Anders Svanoe's stylish "Bored," a laid-back meditation that features some deft ensemble work by Svanoe and guitarist Ed Fila.


Wisconsin State Journal (December 9, 1999)
Titling your latest album "Wholeness" might give your fans the mistaken impression that something might have been missing on your earlier efforts. Thatís definitely not the case with the Ed Anders Quartet, who build on their marvelous interplay and tight playing with their new CD of 9 original songs. In fact, the staple of the Isthmus Jazz Festival has added something extra to their latest offering. Saxophonist Greg Abate, who has played with Ray Charles, Artie Shaw, Kenny Barron and countless others, sits in on half the tracks on "Wholeness." Abateís contribution is immediately apparent on the first track, "Milkman." While Abate plays alto sax in the right channel, Anders Svanoe plays alto sax in the left channel. Hearing the two play off each other, their notes blending and then diving apart, is a thrilling experience, especially on headphones. The toe-tapping swinger "Tickle" affords both sax players the chance to really shine in their individual performances. Guitarist Ed Fila, whose electric sound reminds listeners of Pat Metheny or John Scofield, rounds out the song with one of several crisp solos. As always, Henry Boehm on the double bass and Geoff Brady on drums and percussion provide a solid foundation with their rhythms. Two of the tracks on "Wholeness" approach 10 minutes in length, but neither wear out their welcome. The title track builds up tension with Svanoeís frenetic sax playing and some otherworldly sounds by Fila that create an intricate texture. The Ed Anders Quartet will play this Saturday at 8 p.m. at Mother Foolís Coffee House.
Rob Thomas




Madison Magazine (Oct 1999/Vol 41, No 10)
On "Wholeness," the Ed Anders Quartet's third outing, the band has matured into a full-blown, full-grown jazz ensemble ready for, and worthy of, national notice. This is mature, confident, original jazz writing and playing. Tight as a new drum head and peppered with ample dashes of free jazz, bebop, cool jazz, fusion and pensive balladry, EAQ calls to mind classic '60s combos led by the likes of Clifford Brown, Art Blakey and Miles Davis, filtered through an eclectic, modern, trans-generational sensibility. Guest saxophonist Greg Abate, a veteran of sessions with Kenny Barron, Red Rodney and Ray Charles, is a marvelous value-added attraction, providing a stunningly high standard to which guitarist Ed Fila's and Anders Svanoe's nimble, inventive solos aspire and sometimes surpass.
Phil Davis


Maximum Ink (Sept/Oct 1999/Vol 4, No 7)
As regulars on the Madison jazz scene, guitarist Ed Fila and saxophonist Anders Svanoe have always produced exciting music with in a classic setting, but with their latest quartet incarnation their new release, Wholeness, crackles with a life that's both clever and cosmopolitan. Each member of the band contributed original compositions to the disc and, while distinct personalities shine through, their mutual talents blend well to make Wholeness cohesive, intriguing and exceptionally polished. With guest saxophonist Greg Abate sitting in on half the tunes, the Ed Anders Quartet rips through each of the nine well-conceived tunes with speed, grace and talented agility. From the percolating bop of the opening cut to the astral projections of the title track, this is jazz as a caged beast, full of coiled reflex and intuitive response. Throughout the disc, Ed's guitar aches with a rich wickedness while Anders' sax taunts the super elastic rhythms of ace drummer Geoff Brady and acrobatic bassist Henry Boehm. Whether you catch them at the Restaurant Magnus for their CD release party on September 17th, performing a special collaboration with the Connolly Dance Company at Madison's Esquire Theater on September 12th, or the Isthmus Jazz Festival on October 1st, the EAQ is sure to ignite and excite.
John Noyd


MORE CREDITS
Special thanks to: Greg Abate, Ben Engwall, Johnny Sparkle, and everyone at the Madison Media Institute
Cover and layout design by Toby Latimer
Photographs by Mike Rebholz